Camping tent or trekking tent- what makes a good camping tent and what do you have to watch out for in a trekking tent? This article brings some light into the jungle that is the tent market and helps you to get a grasp of the most important tent features.
Before buying a tent, you should ask yourself the following three questions:
What do you need the tent for?
How many people will sleep in it?
What is the maximum suitable weight?
If you are a bunch of young people on an adventurous trekking tour in Scandinavia, you will have different demands on a tent than a family on a camping holiday at the Adriatic Sea.
Trekking tent – what should I pay attention to?
As soon as you are on tour with your backpack and depend on your equipment, functional, light and high-quality materials are an absolute must. This is especially true for your trekking tent.
Functionality: If you put up and take down a tent every day, you will be very happy about an easy handling. Tunnel tents have proved particularly successful in this respect. The inner and outer tents are attached to each other and can be set up together in just a few steps. If it rains when taking down the tent, you can detach the inner tent first and pack it dryly. On a trekking tour lasting several days, this is a crucial comfort factor.
You can recognize a tunnel tent at first sight by its shape, which is created by the frames and poles. Have a look at this video and see for yourself how quickly a single person can put up a tunnel tent.
Tent weight: You can save significant weight with careful tent selection. For example, a two-person tent for a trekking tour should not weigh more than three kilograms. The packing size is another important criterion. Ideally, it takes up as little valuable room as possible in a backpack or bicycle bag.
Material: Nowadays, tents are high-tech products. This is particularly evident in the materials used. Tatonka offers two lines of tents for trekking. The high-quality trekking tents of the Allround line are suitable for most trekking tours. They are very light, durable and easy to put up and take down.
If you are planning a tour and expect extreme weather conditions, the tents of the Expert line should be your choice. The poles as well as the inner and outer tents are even lighter and more durable. The outer tent, for example, is made of the extremely tear-resistant but very light 6.6 Ripstop Nylon fabric. This basic material is additionally reinforced by several layers of a waterproof silicone coating on the inside and outside. Good to know you're safe when it's storming outside.
Camping tent – how to select the most suitable tent
The trekking tent is all about weight and packing size. Your preferences will be very different when you plan a cosy camping holiday and stay mainly at one site, though. The aspects of comfort and space are in the spotlight now.
Features: As a rule, you will always choose a camping tent bigger than a trekking tent – especially in terms of height. Comfortable family tents are often high enough to be able to stand upright. Depending on the selected tent model you can even divide the tent in two separate sleeping compartments. This separation has the advantage of creating an additional middle space for storing equipment.
The right outdoor accommodation for every occasion
High-quality tents for different numbers of people can be found on our website.
From a certain size upwards, the tent should have two, wide entrances. They are used for ventilation – especially in warmer climates – and also end the mess in the entrance area. Fans and separately closable mosquito windows should be standard. The only disadvantage of all this luxury is that it is easier to put up and take down the tent with two people instead of one.
Space: When planning a tent, the product developers assume a contact area of only 60cm. For those who prefer a bit more luxury in terms of space, it might be better to invest in a larger tent and choose a tunnel tent – it offers the best use of space of all tent shapes.
To be able to find a place to sleep despite all your baggage, you can simply put your travel bag or backpack in the vestibule. A vestibule is the space created when the outer tent is secured at the end of the tent. Many tents have a vestibule at both ends.
Tip: Plan the ground sheet big enough so that the vestibules can also be laid out. Your equipment stays dry and there is less condensation.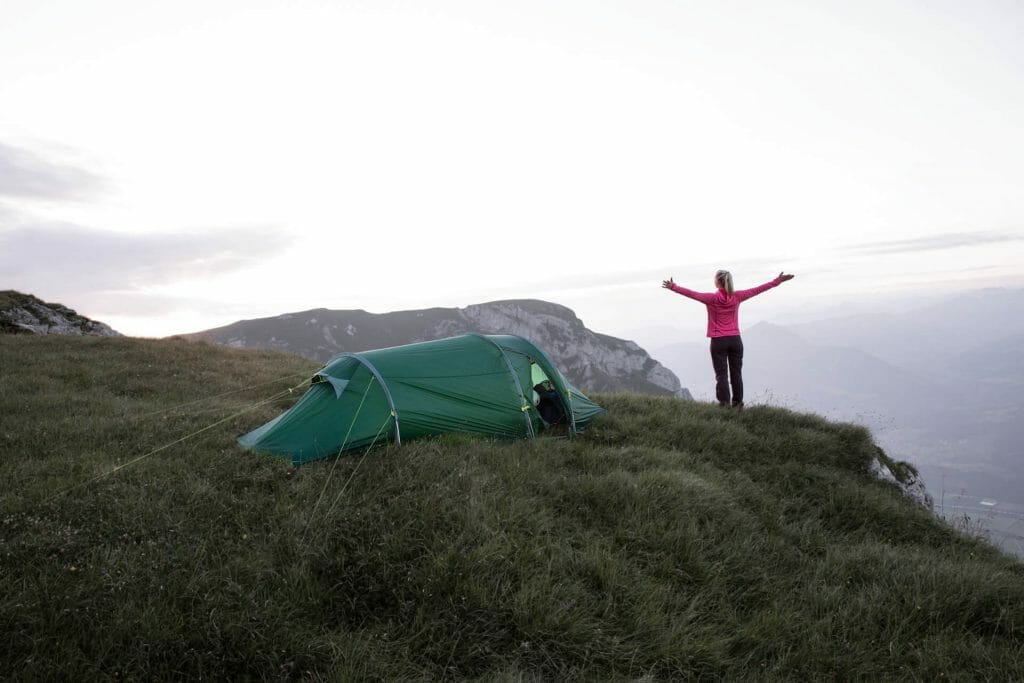 Material: The outer tent of a camping tent or family tent at Tatonka is made of a PU-coated fabric. It is slightly heavier than nylon, but the fabric does not absorb any water and does not expand when damp. Tatonka's inner tent, which is made of water-repellent but air-permeable nylon, ensures the necessary breathability and regulates condensation. The smaller models of the Allround Line at Tatonka can also be packed for a trekking tour.
That leaves the tent floor. It should be as light as possible, tear-resistant and above all, it must be waterproof. Therefore, when buying a camping or trekking tent make sure that the tent floor has a water column of 10,000 mm.
With this basic knowledge about trekking tents and camping tents you are well prepared for buying the right tent for your holiday. If you still have questions please download our detailed Tent Manual.