Anyone who has already been camping with the whole family knows that holiday camping in a tent can be wonderfully uncomplicated – if the right preparations have been made. Here we have a few tips for you to make your planning easier and also tell you how your holiday in a tent can be a very positive and totally unforgettable experience – even if it rains!
Eventually you may get fed up of hotel rooms and holiday resorts, being tied to one place and to fixed times, always the same people, the gradual feeling of everyday routine between strange sheets, even though you are hundreds of kilometers away from home.
Spending the night in a tent is always completely different – and always something very special: end the day sitting around the camp fire in the evening with bread toasted on a stick and grilled sausages, snuggling into your sleeping bag, waking up in the mornings to the sound of birds chirping and breakfasting in the warm sunshine.
Nevertheless, there are still many questions to be answered before your first family holiday in a tent: What if the children get bored? What if they cannot sleep properly in the tent, what if it is too cold for them? From what age can we go camping with the kids? What equipment do we need? What hygiene conditions can we expect on the camping site for tents? Will we be able to keep everything under control or will it all end in chaos?
Top equipment and good planning are essential for your family holiday
For a really successful camping holiday it is essential to have a high quality, spacious tent. As well as space for the respective number of persons, it should also have space for all the gear, baggage and household utensils.
If you are traveling by bicycle, the pack size of the tent is of greater importance than if it is simply transported in the trunk of a car.
Top quality sleeping mats and sleeping bags provide protection from the chilly night – here the purchase of thicker sleeping bags is recommended because these have a zip fastener which can be opened and the sleeping bag used as a blanket if it is too warm underneath it. For sudden bad weather, experienced campers also pack thermal underwear, a jogging suit and a thin pull-on hat, even in summer in order to protect themselves from cold.
After an active day in the fresh air you get especially hungry then you should definitely pack a small gas stove. This is easy to use and afterwards can be stored again in a very small space. A few pots, cutlery and stainless steel camping plates and the festive meal out in the open can now begin!
If you are traveling by car and still have enough space you can add some extra outdoor items such as a folding table and camping chairs although the purists are happy to rest and eat on a nice picnic blanket.
Camping with children: a fantastic adventure at any age
We can guarantee you that there is no such thing as boredom when camping in a tent – on the camp site your outdoor kids are sure to find other children to play with and spending the night in the open is always a new and exciting experience, every time. Babies too, can be taken on a camping holiday: if the camping sites are modern with well maintained sanitation facilities then there are no problems of hygiene.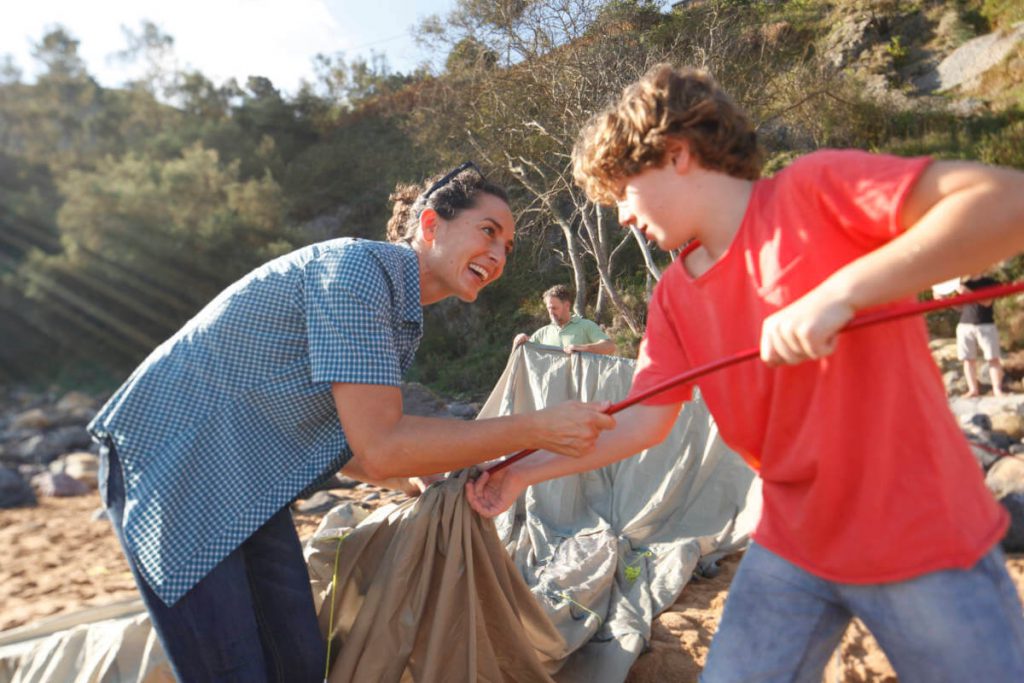 Camping in the rain is not the end of the world!
If on your camping holiday you are suddenly caught out by bad weather this is certainly no reason to immediately pack up your tent. If the tent is big enough you can also eat for once in the sleeping cabin. In this situation the quality and the waterproof properties of the tent will be put to the test and is the reason that before you set off you should really invest in a high quality with perfect workmanship.
You can protect the tent and its entrance from wind and rain with a tarp which can be erected as required using suitable tarp poles or spanned across trees. When spanning your tarp you should make sure that water cannot gather on it, forming so-called water sacks, which could bring the tarp down.
At night in particular you may feel the cold in your bones; if you have been wearing several layers of clothing during the day then it is best to remove some of the extra layers at night as otherwise body heat cannot be so well reflected by the sleeping bag. A hat provides good protection from cooling. It is important to have insulation underneath, for example by placing a picnic blanket underneath as a makeshift solution.
Warmth from the inside comes from hot tea and so tea bags, thermos flasks and gas cartridges for the stove should always belong to your essential camping equipment. Without having to cook too much, an instant soup can also warm you up.
Warm clothing and rainwear of course should be taken with you and further, it is a good idea to take a pair of waterproof shoes to change into or Wellington boots as a quick help; long underwear and warm socks should also be packed in your backpack.