Trekking is freedom at its best: simply enjoying nature and relaxing for a few days far away from civilization. And, still, all freedom aside, after a couple of days in the wild every single outdoor-enthusiast would fancy a shower anyway. For those of you keen to know how to wash yourself and deal with your personal hygiene without a bathroom, read on.
Spending a few days in a row in a tent or tarp definitely leads to one question: how can I wash myself properly around here – without shower or bathroom? Since trekking is more fun if feeling comfortable in one's skin.
Soap or shampoo?
The most accurate way of keeping yourself clean far off civilization is by using rivers or lakes. If the water's condition is appropriate you can simply walk in and rub the dirt and sweat off.
Anyway, never use soap or shampoo! It harms the environment critically if you pour it into the water carelessly. Plus, you don't need it at all. Water is fairly enough for your personal hygiene. That may sound uncommon, though, but it's perfectly fine from a hygienic perspective – including one's genital area. Actually, over a longer period of time it's much healthier using less or no cosmetics.
The only exception is your hands: to rid them of bacteria or germs you are to wash them on a regular basis with soap. Yet, this is not that easy being in the wild:
Natural soap, which is biodegradable and only consists of sustainable ingredients, is eco-friendlier than commercially available cosmetics. Don't use it in open water anyway for it can harm animals and plants nearby.
If there's no other way try to use natural soap – at least a few meters away of any open water. In this case the soap can trickle off and degrade before polluting the groundwater. Still, this is not a perfect solution for the environment.
Also interesting: Camping in the wilds – Rules for undisturbed outdoor nights
Personal hygiene without water
If there's no creek or lake close, you need to find another way. Generally, you can use a disinfecting agent for your hands. It'll destroy all the bacteria and treats your hands like a lotion.
For arid areas (baby-)wipes are recommendable since they're light to carry and cheap to buy. Plus, they're antiseptic as well. But, please keep in mind to not throw them away after using! It takes them quite a while to degrade. Take them back home like the rest of your trash.
For your hair you can use dry-shampoo – even though there's no hygienic benefit. At least, your hair will look refreshed and smell like shampoo. It's all about a fresh sensation.
Wild-shower: DIY
However, you don't need to live without a shower in the wild entirely. It's rather simple crafting a wild-shower with the material given yourself. All you need is water and a waterproof vessel. A duffle bag or a big plastic bottle will easily do the job.
Either a trekking companion can carefully pour water (from a creek or brought by yourself) over you or you fix it on a tree and do it yourself. A plastic bottle's advantage: use the cap to regulate the amount of water spilling out to avoid wasting too much of it.
There're dedicated outdoor-showers too. These look like duffle bags with a nozzle-like lid which can be used like a showerhead.
Packing bags by Tatonka
At Tatonka you will find stuff and packing bags in different sizes. Waterproof with roll closure, or as a round bag for sleeping bag and all your other equipment.
Brushing teeth in the wild
Bringing a toothbrush (incl. toothpaste) on a trekking tour seems quite normal. But, you need to be aware of the following: most toothpastes contain ingredients you shouldn't spit out in the wild (like fluorine and micro-plastic). You better get yourself a sustainable toothpaste before the trip.
Alternatively, use a miswak-toothbrush. It's made of the arak-tree's root which is growing in the Arabic area. The teeth cleaning twig can replace both brush and paste and the handling is comparable to a normal toothbrush. Furthermore, it's antiseptic, contains numerous natural agents and, in addition, is 100% biodegradable.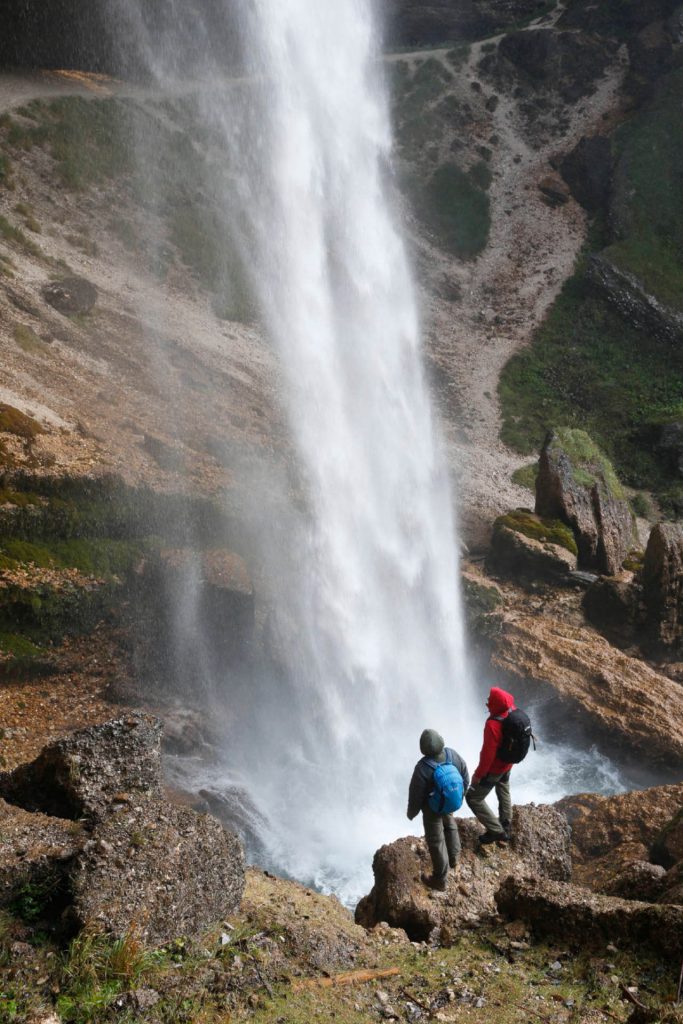 Also interesting: Campfires: how to make fire and where it's allowed – How to make fire in the wild
Proper cloths for more hygiene
Almost equally important as body care is proper clothing. For a trekking trip you are to wear functional clothes since the material is breathable and leads the moisture swiftly away from the skin. The latter is particularly important if it gets a bit sweaty – especially for hygiene. Cotton, on the other hand, dries quite slowly. If the fabric gets wet it's – combined with your body heat – a perfect habitat for bacteria and germs. You better use functional underwear as well. Or – even better – merino-wool-clothing, though it's slightly more expensive.
Generally, try to change wet cloths as quickly as possible. Especially women are vulnerable to infections of the bladder or the urinary tract.
Washing clothes on the go
Anyway, you need to wash functional clothing too to keep it sanitary. If your trip is scheduled for a longer duration and you don't want to carry to much weight it seems reasonable to wash them from time to time. Try to keep the following in mind:
The most crucial ingredient of detergent is surfactant. It reduces the water surface tension enabling two different elements, which are usually not combinable, to blend – like water and oil. During the washing process surfactants make the dirty detach from the fabric.
Since 2005, surfactants are to be completely biodegradable in the European Union by law. This means they have to dissolve within 28 days. Nevertheless, during this period of time detergent poses a risk for environment. Like soap and shampoo detergent should never be spilled into open water.
You can simply wash your cloths in fast flowing water without any chemicals. Use a branch or stone to fix them so the water won't wash it away. Leave them there over night and let the water do its magic. This won't rid the fabric of bigger spots but most of the normal dirt.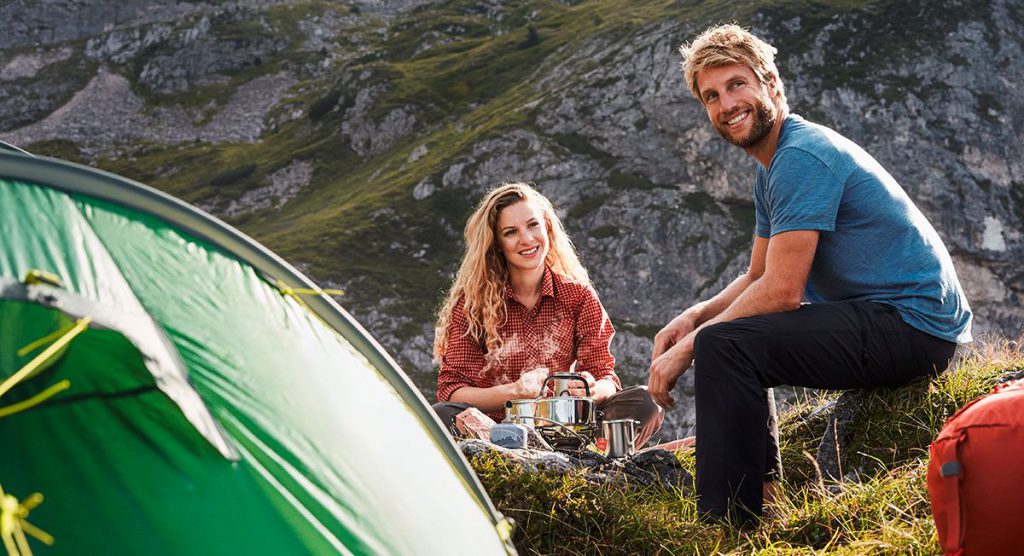 Good to know: What to do when you're in a tent in a thunderstorm
Next to detergent you can use the western soapberry's fruits (washing-nuts). They are no great help on the go, but, you can use them in advance to prepare a self-made washing agent to carry with you in a small vessel. Then you can use the agent to wash your clothes in your duffle for example. The disadvantage: you have to carry the agent.
If you're in the wild for several days you probably won't smell like freshly showered or feel alike. But that's fairly normal. Though, a certain amount of hygiene seems necessary. Anyway, don't mind your body odor too much for you'll only encounter people with the same "issue". Simply enjoy the unspoiled nature and try to leave it that way – without any soap or shampoo. If you have it that way you really can be excited about the hot shower awaiting you back home.