What could be nicer when planning a tour of several days that in the evening you don't have to go back down to the valley to stay in a guesthouse but instead you can stay in the mountains and spend the night in a cabin. This is a very special experience but also requires a little preparation. Here we have put together the basic information for you.
Check list: What belongs in the backpack?
Most mountain huts only have mattresses, pillows and woolen blankets for use by overnight visitors – if bed linen is provided, this is not washed every day. For this reason on such tours you should always pack your own overnight sleeping bag made of silk or cotton. These usually only weight around 200 grams and when packed are only the size of a tennis ball.
A change of clothes for the night should also be carried in your backpack, together with wash cloths and a travel towel, so that you can freshen up in the evenings and mornings. Your hiking boots should not be left in the bedroom and not even in the communal rooms so it is recommended to take fresh socks with you. In the meantime almost all the cabins are equipped with "Hüttenfinken" (the traditional type of slipper-socks).
Touring backpacks by Tatonka
Versatile backpacks with a packing volume of 35 to 50 litres for hut tours, weekend trips or alpine mountaineering can be found at Tatonka.
Oropax has always proved to be useful for an overnight stay in a communal sleeping room; a flashlight or head lamp can help you to find your way around when you are the last to go to sleep or if you get up in the night or are the first one to set off again in the morning.
A membership card for the Alpine Association has proved to be extremely useful on mountain cabin tours and can save your money: With it you get not only a cheaper "mountaineer meals", which are significantly cheaper than the other meals offered, but you can also stay overnight in more than 2,000 Alpine Association cabins at special prices. In addition you have exclusive access to cabins for self-caterers. An unbeatable benefit: with the Alpine Safety Service (ASS) you enjoy worldwide insurance protection in all mountain sports. Further information and application forms for DAV (German Alpine Association) membership available under alpenverein.de
Information is everything: The most important links
If you don't want to be disappointed at the end of a challenging day of hiking, instead making sure that the mountain cabin is really open and has accommodation available, then you should check out the opening times and the facilities of the cabins already when planning your tour.
Cabins of the German Alpine Association can be found under dav-huettensuche.de, and information about cabins in Switzerland under sac-cas.ch, or when in Austria, then look under alpenverein.at. The website huetten.com lists around 300 cabins with up to 30 sleeping places throughout the Alps region.
Mountain cabin rules: With these rules of conduct you are on the safe side
1. Book a place in good time!
Overcrowded huts are a nightmare not only for you but also for the other overnight guests and especially for the host.
2. Take cash with you!
Many mountain huts do not have EC card scanners. You should work out in advance what you need and take sufficient cash with you on tour.
3. Leave your own provisions in your backpack!
Instead try something of the menu. After a day of exertion, a freshly made Kaiserschmarrn or home-made Bündner barly soup in Switzerland can revive you once again – and be prepared to enjoy the culinary specialites prepared by the cabin superviser – in most cases a really worthful culinary experience.
4. Be aware of cleanliness!
Trekking boots and sweaty socks should not be left in the community rooms or sleeping rooms. You should really freshen up and change your clothes before you go to the communal restaurant.
5. Keep up to the specified times!
In Swiss cabins, for example, there are set times for the communal evening meal. There are also strict times for sleeping at night: Between 10 p.m. and 6 a.m is the quietness rule. Anyone who wants to depart at a very early hour, should pack their backpacks the evening before and then creep away early in the morning without waking the others.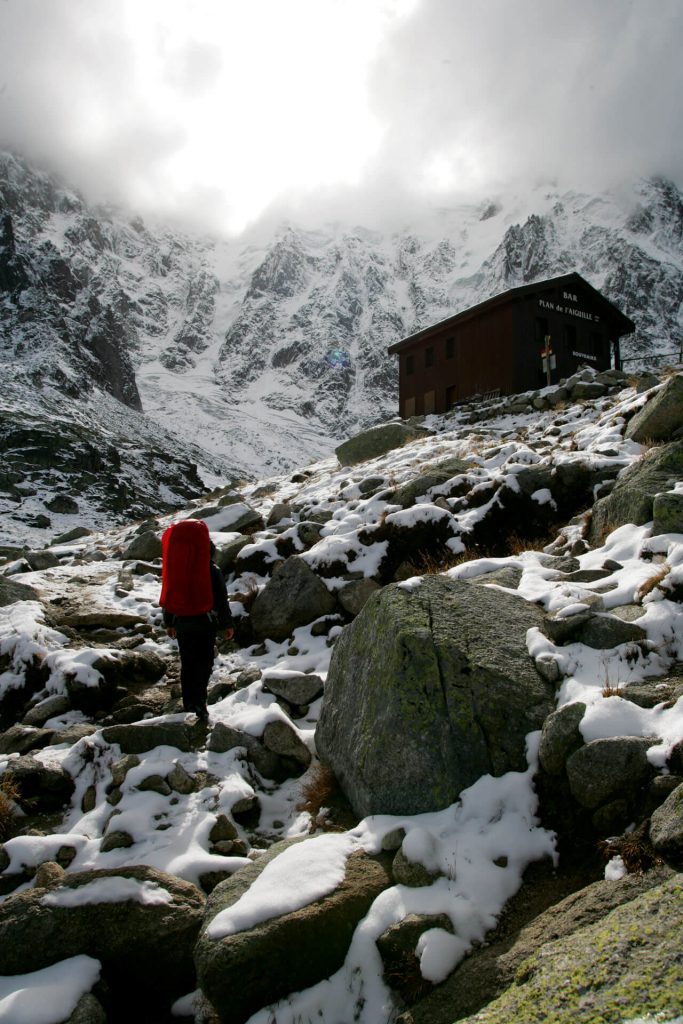 6. Sleep overnight in your own sleeping bag!
In many mountain huts it is mandatory to have your own sleeping bag – and for occasional hikers, it is obviously much more agreeable to spend the night in your own sleeping bag rather than lying in the communal blankets and bed covers, which, as you surely understand, cannot be washed every time.
7. Bring a flashlight or head lamp!
If you have to get up at night or if you are the first to leave in the early morning, you can thus find your way much more easily to the door without stumbling over backpacks and sleeping people.
8. Leave comments for your further route in the guest book!
Leave your comments especially for your further plans in the guest book of the cabin. In the case of emergency the mountain rescue service can thus see the target route and provide help more quickly.