Turned your ankle – helicopter on its way? Even a small accident can quickly require rather serious measures. What is the best way to get help in the mountains? Our handbook "Safety on the Mountain" gives you all the important details.
Every year countless people head into the mountains. Skiing, climbing, hiking, biking – the list of outdoor activities is long. Whether you overestimate your own abilities, the weather changes or you take a tumble, accidents still happen. Thanks to smartphone alerts, mountain rescue units can typically get to you very quickly these days. But there are also a number of things you can do yourself in an emergency.
Preparations at home
Sure, for a simple day trip to a popular Alpine lodge you don't need do any massive safety preparation for the mountain. But as soon as you leave the more frequented trails, venture into tougher terrain or hike outside of the high season, a sprained ankle can suddenly become a real problem. With the right emergency equipment and preparation, you can master even these difficult situations.
Emergency equipment
The right equipment for emergencies depends heavily on the activity you have planned, of course, but you should definitely have the following basic things with you:
Smartphone
A fully charged battery is obvious. If you're on the road for more than a day, we recommend a spare battery or a power bank. Remember, using your phone for navigation or recording your hike will drain the battery rather quickly.
Activate GPS positioning so you can be located. The quickest way to find out how to turn on the tracking service on your phone is to look on the Internet.
Save any relevant emergency numbers. With 112 you can always reach a rescue center or the police in Europe. However, it's faster with regional emergency numbers because you'll be connected directly to the mountain rescue service. In Austria, for example, the alpine emergency number 140 can be reached with a domestic SIM card, otherwise the area code is required.
First-aid kit
Your backpack should always have a first-aid kit. Depending on the activity, length of your tour and the abilities of the group, your kit will require different items.
A list of the most important first-aid items can be found here.
First-aid sets for your next tour
Tatonka has complete first-aid kits for your next trip. Whether it's a day hike or a trekking tour with several people, the content was compiled in cooperation with the Outdoorschule Süd.
Bivouac sack
If you have to spend the night outside unexpectedly (bivouacking) or seek shelter from a thunderstorm, you can lie down or sit down in your bivouac sack. It will protect you from wind and moisture and thus from the threat of hypothermia. These very small collapsible sacks weigh only 130 grams.
Headlamp
A headlamp helps you descend safely in the dark, and also allows you to send alpine distress signals using the light. You can find out how to do this below.
Emergency whistle
A whistle only weighs one gram and doesn't take any space at all. Use it to make people aware you are out there!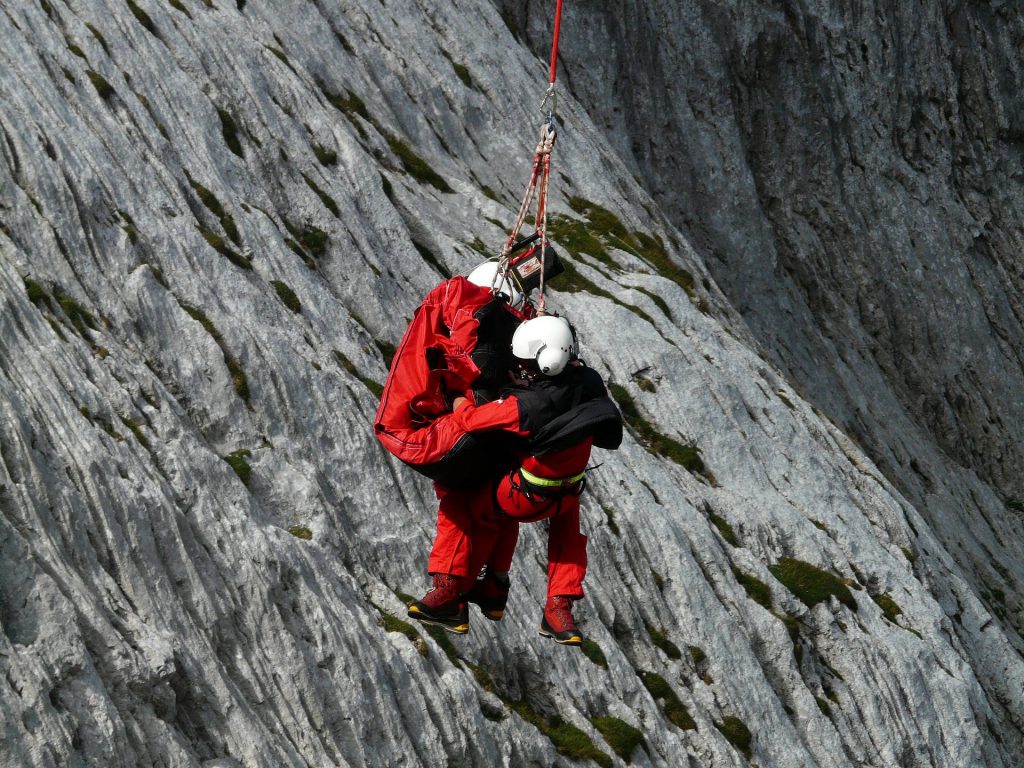 Avalanche transceiver, probe and shovel
No ski tour should commence without a complete avalanche setup. That includes the so-called beeper (avalanche transceiver), a stable shovel and a collapsible probe. Cross your heart: Do you know how to use the equipment properly?
Recco® reflector
The Swedish company Recco is becoming a household name especially among ski touring fans. For many years now the rescue teams at ski resorts have been equipped with these detectors in order to find outdoor enthusiasts who have been buried in snow.
In a number of Alpine regions, the Recco® Helicopter Detector _ has also been in use for some time now. With the detector mounted on a helicopter, search teams can scan very large areas with fewer personnel. It also dramatically increases the probability of locating missing hikers, fallen climbers or people floating in bodies of water.
The backpack that saves your life!
Safe on the trails – the Skill Hiking Backpack from Tatonka with integrated Recco® reflector. With the Recco® Helicopter Detector you can be safely found by rescue organizations at any time.
In terms of outdoor activities, only a small, very light reflector is needed. Ideally it is already integrated into the equipment. Indeed, more and more manufacturers are equipping helmets, hiking boots or life jackets with the reflectors as a standard feature. Some Tatonka backpacks have also been equipped with Recco® reflectors since January 2019.
Emergency call systems
There are special satellite-supported emergency call systems for outdoor sports enthusiasts such as trekkers or mountaineers who travel in impassable or remote areas. This allows an emergency call to still be made even without mobile phone coverage.
What to do in serious situations
The most important rule in emergency situations: Secure yourself first. That's the only way you will be able to help anyone else. Once any acute danger to yourself or your group has been neutralized, then make that emergency call immediately.
What to do when you have no reception
If you and a second member of your group are uninjured, one person goes with a mobile phone to look for cell reception while the other stays with the injured person and continues giving first-aid. Good places for adequate reception include mountain peaks and places with a clear view. If you are alone, send the alpine distress signal and wait with the injured person for the mountain rescue team. If the situation gets worse, all you can do is hike down to the next lodge or into the nearest valley.
Alpine emergency signal
If you can't make yourself noticed otherwise, give an audible or visible signal six times within a minute. Repeat the signal after a one-minute pause. The answer signal is given three times per minute.
Reading-Tip: First Aid in the Mountains – Basic knowledge for the initial treatment of wounds and injuries
At the end of our handbook "Safety on the Mountain" we also make another appeal to each of you: Refresh your first-aid skills regularly! There are many courses that teach special first-aid skills for mountain situations.