Ski touring is getting more and more popular. Ski enthusiasts are out and about off the slopes and ski runs to climb summits before running downhill in pristine terrain. If you are not yet part of them but interested in this new alpine discipline, you will find some useful facts regarding preparation, equipment and possible dangers in the following.
Preparation
Before climbing your first summit gather proper information on ski touring. In general, it's safe to say that only experienced skiers and winter sportsmen should dare to go on this adventure as you need to have profound knowledge and skills to assess risks, dangers and your own abilities correctly. Therefore, it is rather useful to complete training with a mountaineering school.

Make sure to keep yourself updated on the local weather, snow and avalanche conditions before you start your tour. The following websites are very useful:
Preparing and planning your tour: www.skitouren.ch
Weather and snow conditions: Switzerland: slf.ch // Austria: lawine.at
Information points in the skiing areas or in the mountain huts provide telephone information. It is always good to let some friends know where about you'll be going on your tour. Also, it is very important to keep your eye on the weather and snow conditions during your tour. Ski touring season is from December to May.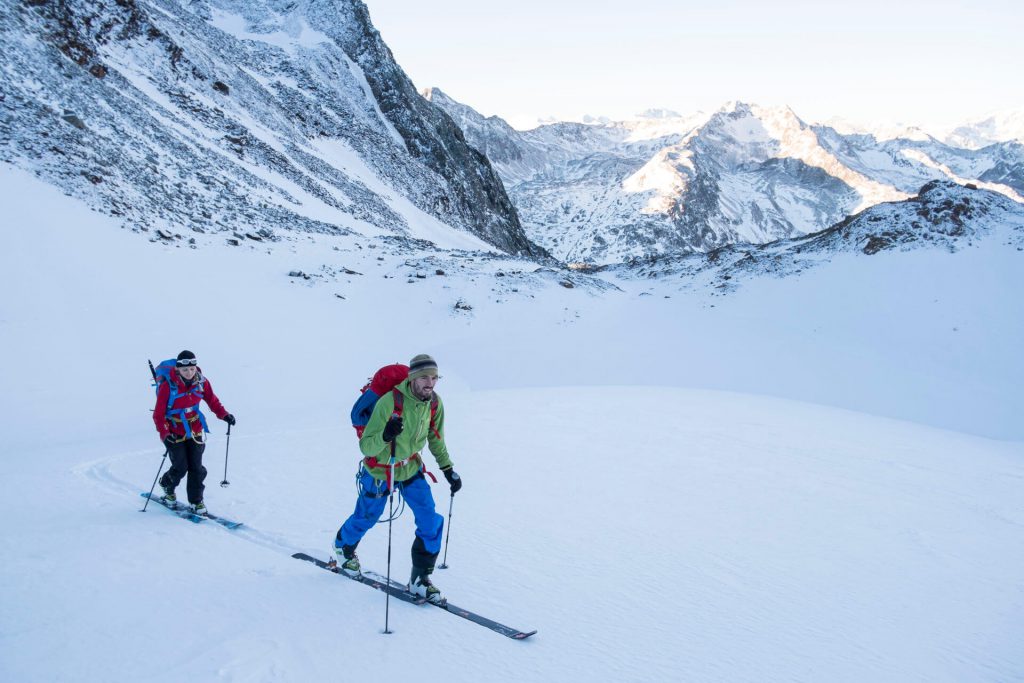 Physical condition
Your physical fitness is one of the main factors when preparing your tour. Ski touring demands a lot of your body and isn't to be taken lightly. Therefore, make sure to have reached a relatively high performance level regarding stamina, strength and your ability of picking up before going on tour.
We recommend regular training in advance to improve these components, i.e. with cycling, hiking or mountain tours. It is important that you are exposed to continual, low stress for a longer period of time in order to improve your basic endurance.
Another important factor is your strength endurance with which you increase your performance and how you can withstand stress for longer. You can practise this e.g. with cycling uphill in a low gear or by running uphill. Or do some athletic and coordination training such as swimming, climbing or slacklining.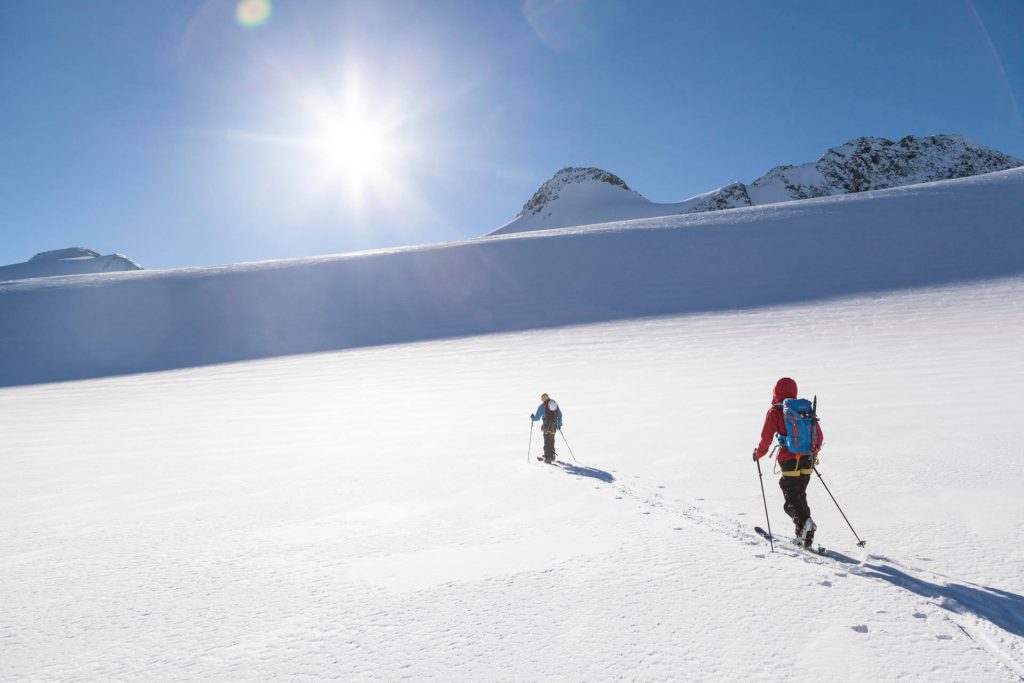 Equipment
But every good preparation won't be complete without a perfectly maintained equipment. Check your equipment before going on tour so that you still have enough time to replace or repair parts in case they are broken. Alternatively, you can rent your equipment in a sports shop.
Ski touring expert
Do you still need a comfortable and funktional backpack for your next ski tour? Our Cima di Basso 35 might be the right choice.
The equipment for ski touring is rather extensive and should definitely include the following:
Touring skis suitable for a downhill run in deep snow, i.e. shorter and broader than usually
Touring binding where you can lift your heels during the ascent
Ski skins made of mohair or synthetic fibre to stick on
Safety set (avalanche transceiver, avalanche shovel, avalanche probe)
Multi-layered weather protection wear, sun screen, sun glasses
Map / compass
Emergency food supplies
Crampon / telescopic sticks
Ski boots with a hinge and treaded sole
For high-alpine tours: ice pick, climbing harness, climbing rope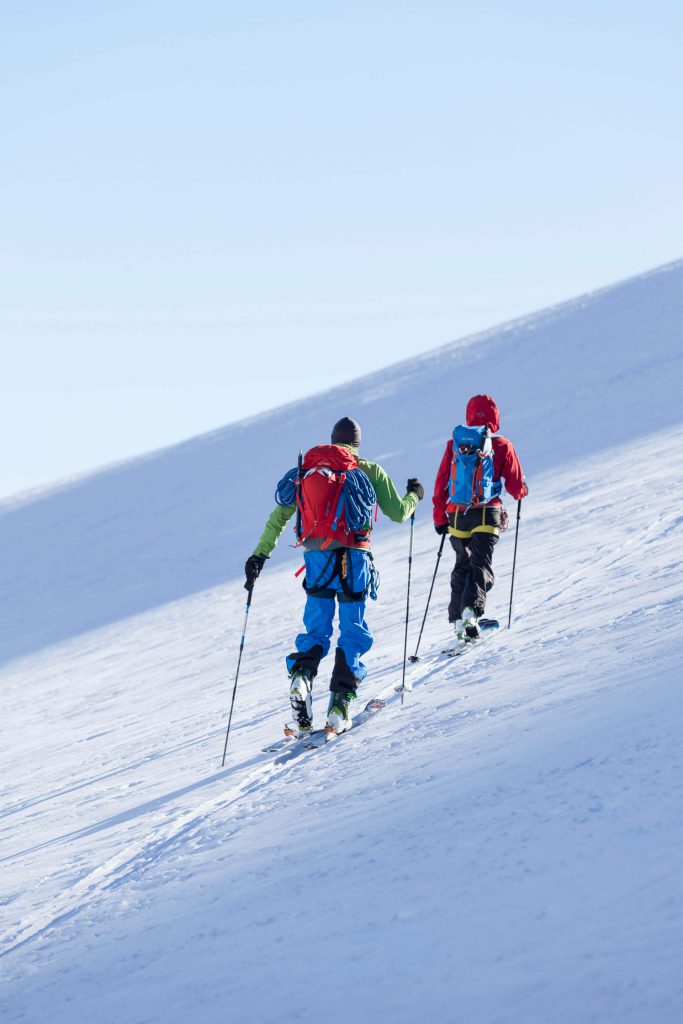 Dangers
Avalanches
Avalanches are the biggest danger in ski touring. From level 2 of the official avalanche bulletin it means increased avalanche risk and corresponding precautions have to be taken urgently.
To best prepare yourself for the worst-case scenario get some information beforehand and learn about decision-making strategies. You can find information on the German Alpine Association's website and in the competent tourist information offices.
Also interesting: Ski Tour Güntlespitze, Switzerland -A fantastic ski tour in the Swiss Kleinwalsertal
Skiing technique
Another important factor is the skiing technique. Due to a higher possibility of falls in open terrain it is recommended to avoid extreme skiing techniques and risk-taking. As soon as you go off the slopes it is essential to know how to feel subsoils and how to adjust your weight on the skis, changing into smooth movement and keep your body tension up.
A safe way of ski touring is to ascent on the side of prepared slopes. But here problems might arise with descending skiers. It can get dangerous especially when skiers don't expect someone coming towards them during their descent – or when lift operators prepare slopes after closing hours. The Austrian advisory board for alpine safety has therefore issued 10 rules to prevent hazards on ski touring and to avoid conflicts. But always keep in mind: Ski slopes are primarily for users of the cable cars and lifts!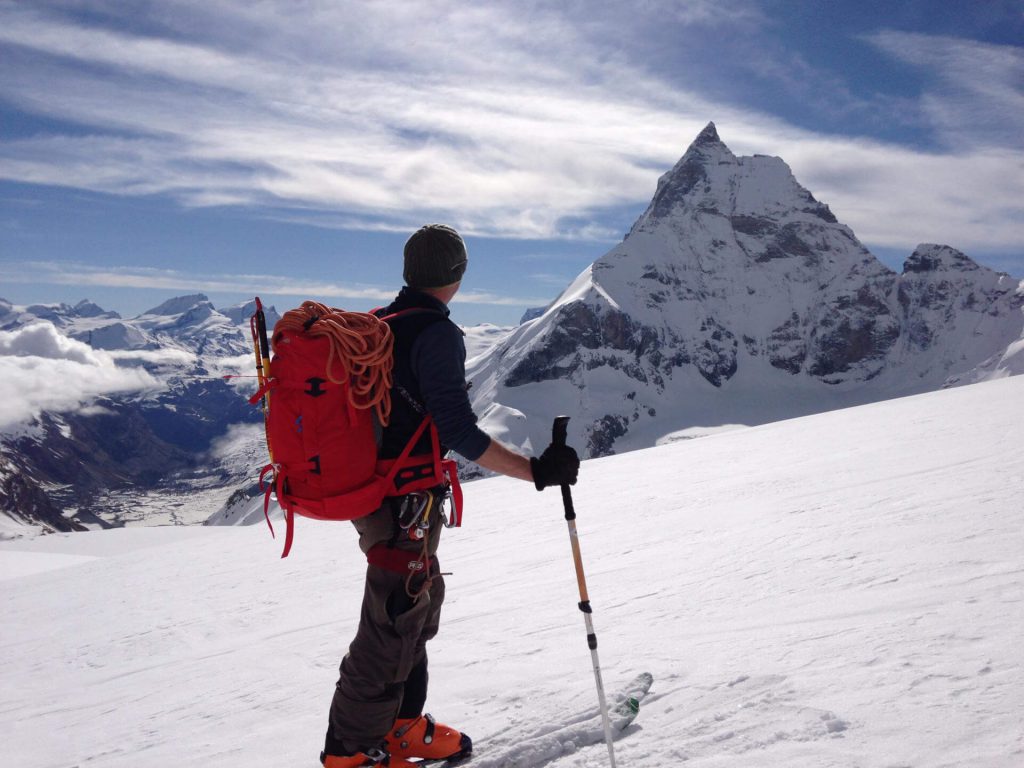 10 rules to prevent hazards
Ascents and descents are undertaken at one's own risk and responsibility.
Only ascent at the side of the slope (FIS rule no. 7). Walk one after another, not next to each other. Pay attention to the skiing operation.
Pay extra attention to crests, narrow passages, steep slopes and black ice. When crossing slopes, keep distance to one another. Don't cross in blind are-as.
Pay attention to closed slopes, warnings and local regulations.
Pay extra attention and be considerate during slope work. When cable winches are being used, the ski slopes are closed for safety reasons. This means there is a risk of danger to life.
Only use recently prepared slopes and go on the side. Always turn on your head torch in the dark and wear reflective clothes.
Pay attention to alpine hazards, especially to avalanche risk. Never go ski touring when avalanche blasting is to be expected.
Only go ski touring when there's enough snow. Avoid damaging the vegetation and land cover.
Show consideration for wild animals. In twilight and in the dark animals can easily be irritated. Don't take dogs with you on the slope.
Please adhere to regulations in car parks, pay parking prices and travel eco-friendly.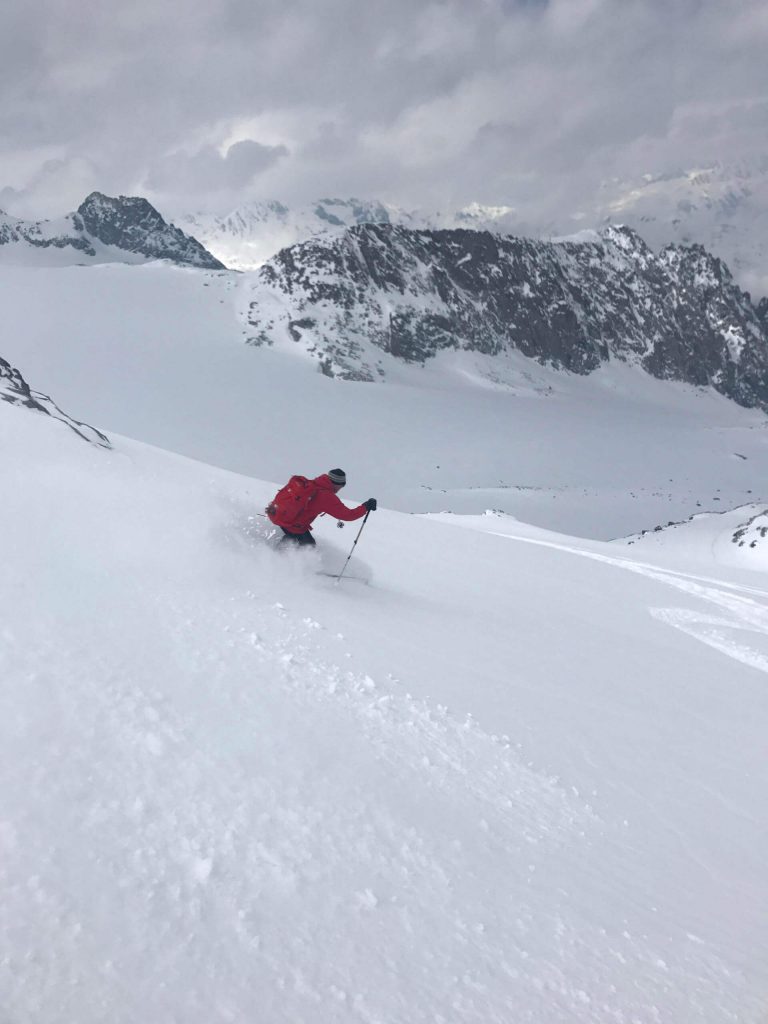 Source: DAV