Speed hiking combines powerful movements with intensive outdoor experience: From simple to extreme, from moderate to challenging, here all tastes and conditions of a special trail are catered for. The Rothaarsteig offers distances that enjoy a great variety of scenery and has been awarded the "German Hikers' Seal Premium Route".
"Athletic Hiking" is only one of the many synonyms for the latest trend sport "Speed hiking": This means expansive, powerful walking with light gear over demanding terrain. Condition and endurance are definitely required for this walking form: Speed hiking is an ideal supplement to moderate forms of endurance sport and is ideally suited to get going again after the rather quiet winter months. The cardiovascular system is stimulated; the overall muscle systems are trained and balanced. The route is the destination – according to personal taste or individual fitness, for enjoyment or for a physical outdoor challenge.
Lightweight and practical gear
Typical speed hiking gear is lightweight, reduced to the minimum: Boots must provide comfort and protection for ligaments and joints, especially for quick movements. Comfortable clothing allows optimum freedom of movement. Provisions can be carried in a small, comfortable backpack, together with the drink system. The Baix from Tatonka, for example, is ideal on active tours. Hiking sticks also support your body, aiding walking and training the torso muscles.
Rothaarsteig: Outdoor challenge for performance-oriented individualists
The most interesting speed hiking trails are through delightful landscapes with different ground underfoot: The Rothaarsteig, for example, is one of the most popular long-distance hiking trails in Germany, taking you along natural pathways through impressive landscapes with breath-taking panoramas.
Over the last ten years it has developed to a top trail for long-distance hikers, trail runners and speed hikers. With a distance of over 150 kilometers, some parts almost 3,200 meters above sea level, it provides suitable training stretches for all tastes, requirements and conditions.
Five selected trails, compiled by the Rothaarsteig team
The Willinger Hochheide tour: 16 kilometers
There is a charming route over the Willinger Hochheide, where most of the altitudes must be mastered right at the beginning of the tour. This trail is about 16 kilometers long, starting and ending at the Visitor Center in Willingen.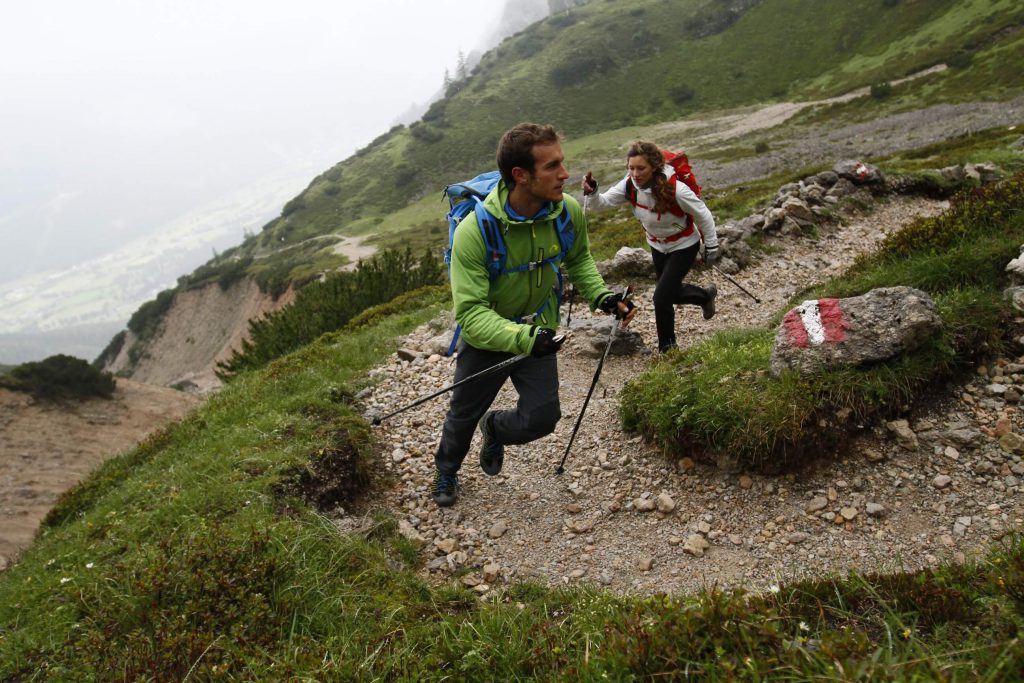 Panorama tour around Willingen: 12 kilometers
The countryside around Willingen offers the visitor magnificent panorama views: One of the loveliest viewing points of this region is reached on the panorama tour around Willingen that over a distance of around 12 kilometers along the border between Hessen and North Rhine-Westphalia offers unique views in all directions.
From Winterberg to Winterberg-Langewiese: 7 kilometers
In respect of physical condition, if a more moderate and relaxing tour is preferred then from Winterberg to Winterberg-Langewiese: The distance of seven kilometers can be covered at normal walking pace in about two hours, when speed hiking then plan for about 80 minutes. The tour presents a short challenge in the ascent to Kahlen Asten but is otherwise relatively flat.
From Olsberg-Bruchhausen to Winterberg: 26 kilometers
From Olsberg-Bruchhausen to Winterberg, tour distance of about 26 kilometer. At normal walking pace it takes seven hours but ambitious speed hikers can do it in about five hours. The largest part of this route is on forest pathways and roads; at the beginning for the speed hiker there is a relatively gentle but long ascent followed by relatively flat terrain with numerous small uphill and downhill stretches.
From Hilchenbach-Lützel to Dillenburg: 52 kilometers
Speed hikers can take an extreme tour, the trail from Hilchenbach-Lützel to Dillenburg: a distance of 52 kilometer that can be covered by top-fit speed hikers in around ten hours. Many small uphill and downhill stretches and a few steep tracks make this route an exciting outdoor challenge.
Tatonka and the Rothaarsteig: A powerful cooperation
Tatonka has been a cooperation partner of the long-distance Rothaarsteig trail since 2007. The picturesque "Path for the senses" follows about 156 kilometers along the main ridge of the Rothaar Range in North Rhine-Westphalia and Hessen.