Only a few steps help you to take care of your hiking boots so that they stay in good condition for a long time: Thorough cleaning, careful maintenance and the regular use of waterproofing agents ensure long life and continued comfort for the wearer. Here we tell you the most important steps to keep your climbing boots, hiking boots and light hikers in form.
Hiking boots should be given their first treatment even before they are broken in on tour: Since shoe care products do not last forever and because often a long time passes between manufacture and sale, it is not possible for shoe manufactures to supply boots that are ready for immediate use. After purchase, leather climbing boots, light hikers in real leather or suede or boots with leather inserts should be treated to an extra portion of "nutrition" and care.
Also interesting: Basic knowledge: Care of function garments – 6 tips to keep your garments at top standard
Basic care at the final stage of your tour
At the end of a long day on a tour, not only your feet but also your boots (hiking boots, light hikers and climbing boots) deserve a little care ritual: Course dirt is removed with water and a cloth or brush. The insoles should be taken out, as these collect dampness, the boots aired and left to dry out until use the next morning.
Extensive care ritual in the base camp
1) Gentle cleaning is the be-all and end-all
At the end of a hiking tour you should give more intensive care to your boots: Dirt should be thoroughly removed. Laces, footbed and insoles are taken out and cleaned separately but without using soap or chemic detergents as these attack the material.
2) Freshening the insides of boots
The inner lining of your boots should also be cleaned occasionally. A mild neutral soap can be used on boots without a membrane. Boots with a membrane, however, should be cleaned with water only so that the pores do not get closed. The leather lining of hiking boots needs gentle care so that it does not crack or tear, in the worst case making the boot unfit for wear.
3) Gentle drying protects the leather
To dry your hiking boots, place them in an airy and shady place with the tongue opened up as far as possible; it is important to avoid placing them near to ovens, heating, fire or direct sunlight, especially in the case of leather boots: Leather will dry out in the heat and will become cracked; in the worst case it could even burn.
As a rule of thumb: Boots made of leather should only be left to dry in temperatures that a person would also find pleasant for their skin. To begin with the hiking boots can be stuffed tightly with newspaper such that the boots keep their shape and to absorb moisture. The paper should be changed at regular intervals. Wooden shoe spanners also keep hiking boots and especially climbing boots in shape during storage.
Reading recommendation: Outdoor Equipment: Maintenance and Storage – Tips to adequately hibernate your backpack, tent and functional garment
Shoe wax maintains and waterproofs
After drying, you can now treat your well-deserving climbing boots to a thin layer of shoe wax. It is important not to smother the boot in wax but only to apply a thin layer: If too much wax is applied to the boot, the shaft becomes softer, thus losing its firmness. In addition, this has a negative effect on the breathing ability of the boot. The wax should be applied and the boot waterproofed while it is still slightly damp.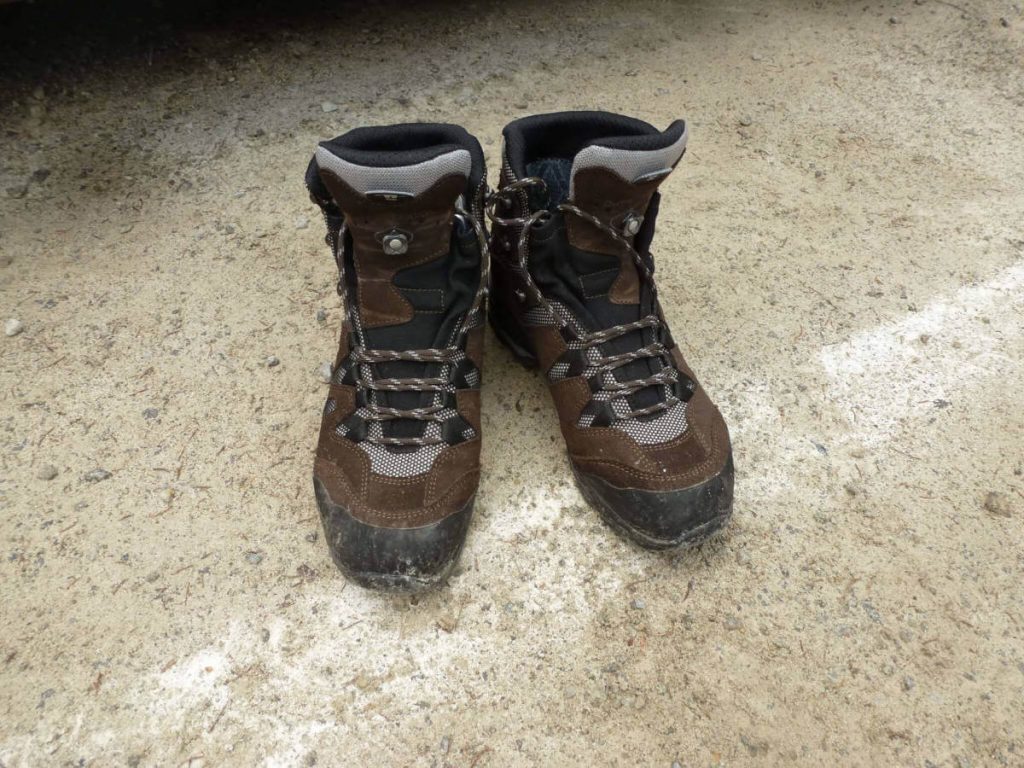 The shoe wax or emulsion should be applied in thin layers, several times if necessary. The wax ensures that the boot retains its firmness and is still able to breathe; it is important that all parts of the hiking boot are waxed, including the tongue and tongue bag. This is done most easily if you first remove the laces.
Not only the boots themselves need proper gentle care but also the many other details: The metal hooks and eyelets can be protected with wax or Vaseline against corrosion.