Being sick while travelling? It's not just uncomfortable it can be dangerous, too. Because: Different countries, different diseases. Yet, with a well equipped first-aid kit and appropriate preparations you don't need to fear an emergency – if you consider the following aspects.
If you go on a holiday you must make plans, lots of plans: book a flight, apply for a visa, renew your passport and, of course, pack. But who minds a – more or less – uncomfortable issue: the health? Getting sick is the last thing you need while travelling. Anyway, it's worth making some preparations if worst comes to worst. With the appropriate remedies in your first-aid kit you'll be up and about again in no time and able to enjoy your backpacking-adventure.
Adjust your travel first-aid kit to the country you're travelling in
To consider your health and first-aid kit in time is particularly important if you're planning a long-distance journey. You'd mind the following questions:
What about the medical supply in the destination country? Are there international hospitals? If so, take notes concerning their whereabouts. There you can find professional medical supply and English-speaking staff.
What about hygiene? What are the most common illnesses?
Do you plan any hazardous activities (e.g. crossing a remote and hardly inhabited region)?
Is there medicine you must take on a regular basis? Do you have enough of it? What about the durability? And do also mind substitutes if you lose some of them!
By all means, compile your first-aid kit at home. Maybe medicine is a bit cheaper in your destination country, but the quality level could be worse than in Middle-Europe. In fact, there are some regions struggling with forged drugs as well.
The basic first aid equipment for your next holiday
First Aid Compact by Tatonka – with wound plasters, bandage packs, compresses, a pair of bandage scissors, a tweezer and much more.
Additionally, there are several reasons it could be quite hard to get the remedies you need: there's no pharmacy, the pharmacy is closed, communication issues, the required drug is not in stock – it's an endless list. These are issues none of which you'd like to deal with in case of an acute sickness.
Also interesting: 5 items to make a coach trip more comfortable
Basics: These meds must always be in your backpack!
If you feel unwell while travelling and you consider it something serious, you'd definitely see a doctor! The fear of a massive bill is no valid reason to jeopardize your health. If you collect all the bills and receipts there're good chances your health insurance will refund most of your expenses.
However, there're meds you'd always have with you – especially if there's no pharmacy or doctor at hand. Be prepared to help yourself instead.
Anti-diarrhea medicine
There are several ways of giving: But keep in mind, it's not unlikely for suppositories to melt in the warmer regions of the world making them useless. Fizzy electrolytes are quite recommendable as well to quickly regain your strength in case of severe diarrhea.
Remedy for headache and fever
Note: in tropical areas you'd avoid meds containing acetylsalicylic acid (e.g. Aspirin). Maybe, the active ingredients worsen the symptoms of certain specific infectious tropical diseases like malaria.
Remedy for nausea
Disinfecting agent
Insect repellent
In the tropes DEET containing insect repellents are quite sensible. You can easily buy them in the destination country. The local products are usually the best ones. In addition, a mosquito net is essential.
Allergy ID (in English)
An allergy ID is crucial in case of an anaphylactic shock. Immediately, the rescue service will know what's the reason for the allergic reaction. In terms of giving meds – whether in hospital or pharmacy – the allergy ID makes sure you won't get any drugs sold which you are allergic to.
Eye ointment
While travelling, from time to time, you're exposed to air draft which can cause an inflammation of the eyes.
Herpes ointment
Sun blocker
Nowadays, it's common knowledge that UV radiation is quite harmful. That's why you'd definitely pack a sun blocker.
First-aid kit
Tweezers
…and – that goes without saying – take all the meds you need on a regular basis with you!
Advice: Ahead of a longer journey it's worth visiting a doctor's office. There you can get sophisticated advice considering your first-aid kit in regard of the destination country, all your vaccinations renewed and a general health check too.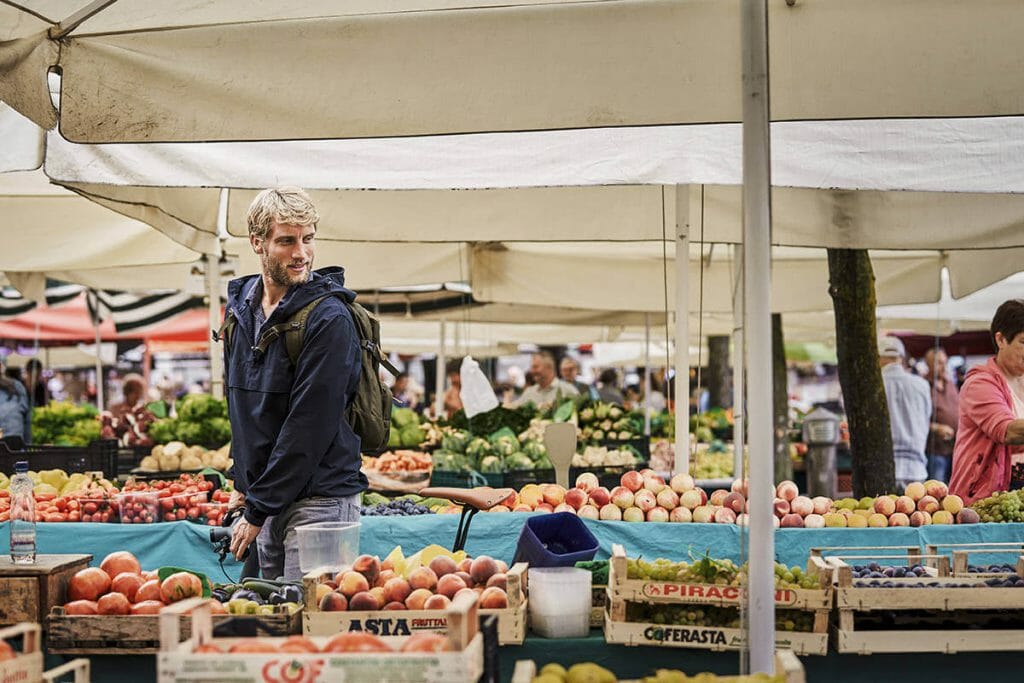 Hand-luggage or suitcase – where to store away your meds best?
In case of air travel, it's safe to say that your meds should be in your hand-luggage. Especially, if you rely on them. Suitcases might get lost or arrive with delay. You better don't take the risk.
For safe transportation we'd recommend a zip-lock-bag. It's hardly possible to lose track of your drugs in this transparent travel companion. Additionally, the water-proof material protects your meds from moisture. Alternatively, you can simply use a freezer bag.
Advice for costumes control: In terms of prescription medicine you better keep and bring the original box to avoid any problems at the airport or at the border. There are some cases you require certificate confirming you're allowed to carry these drugs along. A doctor can help you with that.
For dressing material an extra kit seems quite useful. Tatonka offers different products aligned with specific purposes – from compact sets for a one-day-tour to fully equipped ones.
Also interesting: Working holiday: What you need to pack – and what to leave at home
Vaccinations for your journey
Depending on your destination you are to investigate which vaccinations you need beforehand. There're perfidious diseases especially in the tropes which as a Middle-European or an American you're most likely not vaccinated against: hepatitis A, yellow fever, typhus or malaria – to state the most common among them.
Which vaccinations are required in your destination country are listed on the website of the Centers for Disease Control and Prevention. There you can find additional information regarding health issues while travelling.
Next to quite specific vaccinations you'd also consider getting general vaccinations checked and, if necessary, renewed (e.g. measles, diphtheria, poliomyelitis or influenza).
Most importantly: deal with the proper vaccinations in time. There are some vaccinations – like hepatitis B or rabies – you need several injections over a longer period of time for to guarantee proper protection. This can take months and requires planning in advance.
You also should get a global health insurance if you're travelling for a longer time. This can save you a lot of money if you get sick or injured.
This could also be interesting for you: 7 Reasons why you should go on an adventure trip